Last week myself, my husband and my youngest son were heading to Jamaica for the weekend to attend my nieces wedding. We had a 7 am flight.
It's always a struggle to get my teenage son out the door that early in the morning, but after much nagging and shouting, we finally made it to the Baltimore airport at 5:30 am.
I attempt to get us check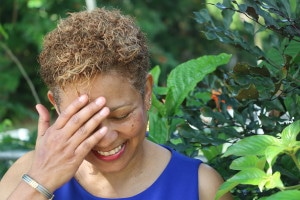 ed in, while my husband parks the car, but the kiosk keeps spitting out an "error" message. Annoyed, I ask a passing airline rep to assist. She looks at the paper and nonchalantly informs me "that message usually comes up when you are at the wrong airport".
                            WHAT??!!!
My skin feels prickly with fear as I process the realization that, when I made the reservations months before, I had actually booked us to leave from Reagan Airport in Washington D.C. instead of BWI because the flights were less expensive!
CRAP!!! (My teenage son is now laughing heartily, loving the fact that "Mom messed up!")
I quickly shift out of shock and into recovery mode, making my way to the counter to see if we can get on another flight. The Counter Agent informs me that for an additional $375 (each) we could fly out of Baltimore BUT there were no flights that would have us make our connecting flight in Miami.
He suggests we reschedule on a later fight out of D.C. and finds one at 8:30 am, however, it's now almost 6:00 am and, with morning traffic, it can take 1 1/2 – 2 hours to get to DC from Baltimore! (My husband thinks we should just give up and go home.)
Miracle #1
I decide we are NOT going home. The agent informs me if he re-books us on standby we don't have to pay a change fee and reassures us that with 12 open seats on the flight we will get a seat. My husband returns to get the car (still dubious that we will make it, but now open to a different possibility).
Miracle #2
We leave BWI airport at 6:10 am and we need to be at Reagan by 7:00 am! I am totally stressed and angry at myself for messing up. I can feel my blood pressure is elevated. So while my husband drove, I started to do EFT Tapping in order to release my anger and forgive myself for "messing up". I also did some yoga breathing to decrease my blood pressure and calm my nervous system.
As I started to relax, I got a hunch that we should take a certain route. Once on the highway, I closed my eyes and started to meditate. I connected to Source and asked for help and support in getting to the D.C. airport by 7:00 am. As I stayed in a space of expanded energy with my eyes closed, I felt the car moving consistently.
Pleased with our flow, I opened my eyes… and saw the bumper to bumper traffic in front of us!  YIKES! I was gripped by the fear that we weren't going make it and the traffic (that had been flowing nicely) instantly came to a halt!
I closed my eyes again, returned to my inner space of calm, and focused on keeping my energy elevated. The traffic instantly started to move again. We got to the airport exit at 6:50 am and we were standing in the line at the counter at 7:00 am!!!! 

We made all our flights and the rest of the journey was uneventful. Later, as I pondered how this experience had served me, I realized it was an opportunity to practice using the tools I teach and to play with creating miracles. 🙂
THIS is why I meditate, do EFT (tapping) and practice yoga!
In situations like this, they are great tools that help to ground me, bring me back to center, connect to God/Source/Universe and create new possibilities and positive outcomes (i.e. magic and miracles).
How do you manage the inevitable curve balls that life throws at you? What tools do you have in your tool-kit? Are you using them regularly? (That's the only way they will be available at your fingertips when you really need them.)
Remember, life's challenges are opportunities to either learn something new, or practice applying what you've learned. We are more infinitely more powerful than we can imagine! We have the ability to change our reality, bend time and shape matter.
You may need to change the way you think about yourself. Start by 'unlearning' the idea that you are a 'mere mortal', a 'limited' human at the mercy of the circumstances of life.
If you're game, I'll show you how…