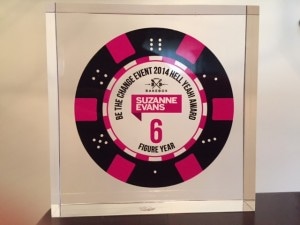 "Success is not an accident. Success is a choice"  ~ Suzanne Evans
It was April 2013. I sat in the audience at Suzanne Evans 'Be The Change' event in Orlando Florida. I watched as different entrepreneurs went on stage to collect their awards. 10k month awards, 6 figure business awards… 7 figure business awards (what?!).
The room pulsated with energy, music pumping, lights flashing. I felt a familiar sensation building in my body: Excitement and Inspiration. Witnessing this was igniting a desire within me, opening me up to a new possibility. If these people had done it, then why not me?
In that moment, I decided. Come next year, I would be one of those entrepreneurs on that stage, receiving one of those awards.  And I did.
Everything begins with a decision. A choice. Then you have to act on it. So I joined Suzanne Evans 10k club, a year long business mastermind group. I wanted to learn how to consistently take my income to 10k or more a month (despite the gremlins in my head that told me that would be greedy). 🙂
I vividly remember the intense feeling in the pit of my stomach that was a combination of excitement and fear. The now familiar, "Oh shit! Here I go again!" that signals the act of stretching beyond my comfort zone and facilitates another quantum leap in my personal and business growth. The inevitable voice of doubt and fear in my head that says: "who do you think you are?" And "that's a lot of money, what if you fail?".
It's a wild ride. And I wouldn't have it any other way. Here's why…
I learned early on in life, when my sister died suddenly in a car accident at 20 years old, that this life can be fleeting and, every moment we have, is truly a gift. I tried to commit suicide after her death and failed. After that, I decided to live – no matter how painful life got.
After a near death experience in my 30's, I decided to live full out. (at times I have to be reminded and coerced, but that's why I have a coach!)  🙂
When I sat with my Dad on his death bed, I asked him if he had any regrets and he said "not one!". I decided that's how I wanted to feel at the end of my life. I had watched my Aunt go out very differently, spending hours talking about the things she regretted doing and the things she wished she had done. It was like venom pouring out of her mouth at times.
I am so grateful for my life experiences. For the things I have witnessed that shaped my choices. I am especially grateful to the work of Louise L. Hay, that taught me I could choose. That if I didn't like my life experiences, I could change them by changing my thoughts and my beliefs. That I could have what I want, if I was willing to do the work. The inner work.
I am grateful to my mentors, Louise Hay, Marcia Wieder, Jean Houston, Monica Shah and Suzanne Evans who taught me that I could change the world by first changing my world.
It's been challenging at times. I certainly have not done it alone. I don't think I could have.
I have chosen to say yes to opportunities when they presented themselves – even when I didn't think I was ready. I have been willing to feel… the anxiety, the fear, the doubt, the pain. That's how I discovered that everything we ever want is on the other side of it.
So today, I encourage you to just be willing. To be scared. To open to new opportunities and experiences. Be willing to try something new and to feel the sensations that come with that. Say yes where you normally, automatically might have said no.
This year, I'm grateful I will be at 'Be The Change' again, receiving another 6 figure business award. I've stepped it up a bit as a sponsor to stretch myself a little further. I have 2 complimentary tickets left. They must be claimed by Thursday. Would you like to join me? Click here to claim your complimentary ticket.
*Like what you read here? Please leave a comment below and share the love with your friends on social media.