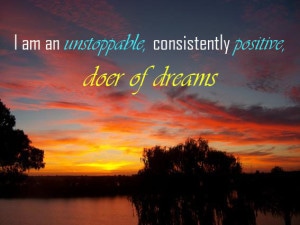 Recently, I was working with a copywriter to redo the copy on my website and we were working on my personal story for my "About Helen" page. In telling the different stories from different stages of my life journey, I had an incredible realization: I have always been unstoppable! The principles that I teach my clients that help them to stand unapologetically and unambiguously in their power and their truth, are exactly the tools and principles that I learned in my own life journey. They are exactly what have made me unstoppable! It was a big "AHA" moment for me.
I have always been a seeker and a life long learner. Partially because my parents instilled in me the value of education, partially because my profession of physical therapy required that I continually improve my skills, partially because I have a naturally inquisitive mind and if something stops me, I automatically look for a way around it – a solution – a way to move forward and accomplish what I want.
As a result, I have done things that most people could not imagine themselves doing!
-Like closing a successful business and sending my kids to live with their dad to move half way across the world to be with my boyfriend.
-Like going anyway even though he broke up with me in the middle of my move.
-Like selling my car to pay for a study/travel program in China and not knowing what I would drive or how I would buy a new car when I came back 3 weeks later.
-Like closing my successful business in Jamaica and starting over again in America at 42 yrs old.
-Like leaving the stability of a job and career that is established and stepping boldly and fully into my coaching business because I knew this is what I was supposed to being doing now.
-Like investing $10,000 to spend a day with a mentor to expand my wealth consciousness, even though I had no idea where the money was coming from to pay off the credit card I'd put it on.
All these things have something in common. And it's not just that I'm plain crazy! 🙂
They are the result of a mindset shaped by life experiences that helped me understand that life is a precious gift and that it can be fleeting. This has made me unstoppable in living a life worthy of the gift it is. Committed to achieving my full potential and getting the highest return on whatever I choose to invest my time, energy and money in.
Hindsight is a great teacher. Looking back I realize there are certain qualities you must develop and strengthen in yourself in order to become unstoppable:
• A willingness to be uncomfortable (because change is always accompanied by a certain degree of discomfort) combined with an intolerance for prolonged discomfort (so you don't have a tendency to settle).
• Learn how to manage your fear so you can feel the fear and do it anyway.
• Strengthen your faith – in yourself, Life, God, The Universe. Your faith must be bigger than your fear.
• Be willing to take a risk – Follow your heart. This requires that you be connected to your heart.
• Trust yourself implicitly – believe in you more than anyone or anything else
• Believe in something greater than yourself.
• Have a can do attitude – Be willing. Be flexible.
• Do what matters to you – Get clear on your values and your priorities and do that!
I believe it is our duty to make the most of this gift called life.
Where are you allowing yourself to be stopped?
Are you ready to unleash the unstoppable you? If so, I'm ready to help.