"And… ACTION!"
The director shouts and people start to speak, move … DO!
This is what most of us think of when we hear "take action". Doing. Being busy.
We all know that nothing changes without some kind of action, but some actions don't look like "doing" at all.
Like creative thinking. Like strategic planning.
There is a huge difference between the kind of action that is "busy work" (that makes you look like you are being productive) and the kind of intentional and inspired action that actually effectively accomplishes something.
That's why I love this quote by Abraham Lincoln: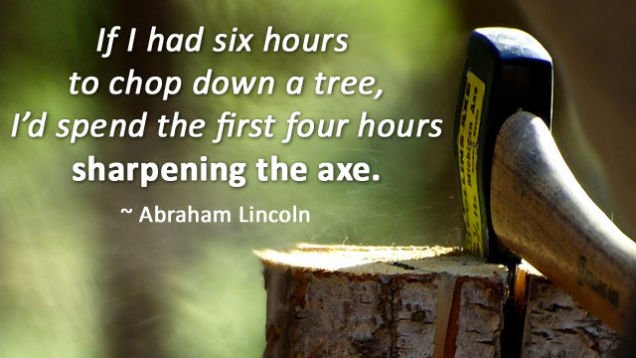 Most people don't take the time to get clarity about what they want. Or look at the beliefs/emotions that are driving their actions.
THIS is what sharpening your axe looks like.
Being intentional in establishing a solid internal foundation that makes it easier to take the actions that actually create the desired outcomes.
It also looks like Being patient. Percolating. Trusting.
I can hear you thinking "But Helen, what if I don't have the time to percolate and need to take action quickly?"
If you are unclear what action to take, just take your best shot – you will get clearer as a result. Taking action will result in some outcome which will help you get clearer about what works and what doesn't and what you like or don't like.
Action begets clarity. It also builds your courage and confidence.
You don't need to know HOW you will achieve a specific outcome/result in order to be clear on how you will FEEL or experience as a result of achieving it. Sometimes that's all the clarity you need and then an inspired action will bubble up into your mind.
There are 2 main reasons for inaction:
Being immobilized by fear. Fear of making a mistake. Taking the "wrong" action. Or getting an undesirable outcome (failing, losing, going broke). The solution? Work on identifying and clearing the beliefs that are driving the fear. 
Lack of Clarity. Not being clear about what you want or what actions to take to get what you want. (Which is still fear because it clouds our mind and muddles our thinking).          The solution? You can a) Do the work to get clear or b) take a leap of faith and figure it out through trial and error. 
So, How do you ensure that you take the most effective, aligned and inspired action?
Take the time to get clear on your desired objective(s). i.e. what outcome do you want?
Give yourself space and time to get clarity and allow creative ideas to percolate.
Make decisions from a place of responsiveness, not reactivity. From love not fear. 
Ensure your actions are aligned with your desired outcome.
Look at what is inspiring your actions – lack or fear. (You can't come from lack and get abundance)
These last 2 months I have been going through the process of getting clear on what my "next level" of desires and actions will be – both personally and professionally. It's a process I engage in regularly and it has kept my life interesting and expansive. I no longer wait until a life crisis forces me to make changes. I take the time to tune in. Listen. Get clear.
I hired my latest coach in June to help me specifically with this. I know the power of having someone to co-create new possibilities with, show me different perspectives and invite me to step through my fear and into a more expanded version of myself and my life.
There is an alchemy that happens when you intentionally engage with another person (or group of people) to do this work.